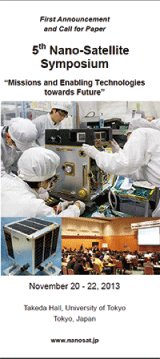 VISA & Travel Information
?? Visa Information
Participants from certani countries may be required to obtain a visa to enter Japan. When you?don't know?if you need a Japanese visa or not, please?ask your nearest Japanese Embassy or Consulate Office.? You can also visit the visa pages in the website of the Japanese Ministry?of Foreign Affairs (http://www.mofa.go.jp/j_info/visit/visa/index.html).
When you need an ivitation letter for a visa application, you are requested to fill out the Invitation Letter Request Form?and to send it to the Nano-Satellite Symposium Office by email attachment.
Please note that you should enter Japan within three months from the issue of the visa.
??? Travel Information
Click below for travel information:
Japan National Tourism Organization (JNTO)