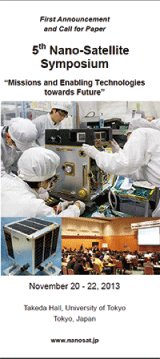 Call For Paper
Authors' Instructions
Final Paper/ Oral and Poster Presentation:
? A final paper will be submitted according to the Template below.
? Login with your email address/password through "My Page" and upload your final paper.
? A full-length final paper submission is essential for presentation at the Symposium.
? Both abstracts and final papers will be published in the syposium proceedings and be distributed to the symposium participants.
? Authors accepted for an oral presntation will be offered a presentation slot of around 10-20 minutes.
? Authors accepted for a poster presentation will be asked to submit a full paper as well, and to bring an A1-sized poster to the Symposium (see the Notification for the Poster Presentation for more details).
Template for Preparation of Final Papers pdf.
Template for Preparation of Final Papers doc.
Final Paper Due: Friday, September 20, 2013
Final Paper Submission Closed!
Tpoics
The following list of topics for micro/nano/pico-satellites (less than approximately 50kg satellites) is of relevance to the Symposium:
A) Novel missions and applications

1) Earth observation
2) Disaster monitoring
3) Communication type missions
4) Space science and space exploration
5) "Personal use" type missions
6) Other new areas of missions
B) Lessons learned as to space utilizations

1) Public welfare type service
2) Service for business
3) Others
C) Technologies and infrastructure

1) Satellite architectures
2) Novel component technologies
3) Software development styles and architectures
4) Ground test
5) Ground station systems
6) Archive and information processing
7) Launch opportunities
8) Regulatory issues
9) Education and capacity building
Call For Papers
The 5th Nano-Satellite Symposium invites prospective authors to submit abstracts of their works. All submissions will be reviewed for quality, relevance and merit. All accepted abstracts will be included in the symposium proceedings and distributed to participants during the Symposium.
Abstracts submission will be accepted through My Page online registration system in PDF format only. Authors are expected to follow the abstract submission guideline. Deadline for abstract submission is Friday , June 28, 2013.
Presenters will be notified by the end of July, 2013 to confirm if their abstracts have been accepted or declined. Presenting authors will be informed and offered an alternative poster presentation if their abstracts are not selected for oral presentation.
Abstract Guideline Download
Abstract Submission has been closed!