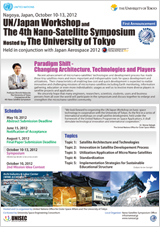 Download (6.74MB)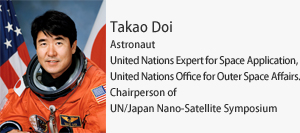 The United Nations Office for Outer Space Affairs is pleased to cooperate with the University of Tokyo in organizing the United Nations/Japan Nano-Satellite Symposium to be held from 10 to 13 October 2012 in Nagoya, Japan.
The recent arrival of the new class of micro- and nano-satellites has allowed governmental and non-governmental institutions in a growing number of countries to participate in the exploration and peaceful uses of Outer Space. Advances in technology have contributed to lowering the cost and development times of space missions using micro- and nano-satellite platforms, and we see progressively more innovative missions being realized. The overall theme of the Symposium - "Paradigm shift" is, therefore, aptly chosen.
For more than four decades, the United Nations through its Programme on Space Applications has contributed to capacity building in the field of space activities. Micro- and nano-satellite missions and their applications can provide a wide range of benefits that contribute to social and economic growth. For this reason the Office for Outer Space Affairs launched the Basic Space Technology Initiative (BSTI) in 2009 with the aim to support international cooperation in this field. The UN/Japan Nano-Satellite Symposium is the major BSTI event scheduled for 2012. It is the first in a series of similar Symposiums we plan to organize in the coming years in different parts of the World.
I am confident that the Symposium will provide valuable opportunities for everyone involved in micro- and nano-satellite missions to learn about the latest technological advances, applications and relevant legal and regulatory issues as well as to discuss overall strategies for capacity building in space technology development.
I therefore encourage you to join us in Nagoya and to participate in this important Symposium!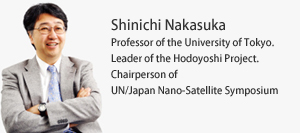 We will hold the UN/Japan Nano-satellite Symposium on October 10th - 13th at Nagoya city in Japan in this year. The theme of this symposium is "Paradigm shift ".
Micro/Nano satellite's characteristics of enabling low cost and quick development is expected to realize innovative and challenging missions, as well as to involve more diverse players in satellite projects and application.
We hope that the researchers and engineers of Micro/Nano-satellites all over the world will get together to discuss such applications of Micro/Nano-satellites as well as the technologies to realize them, towards creating a paradigm shift.
Please join us!
We are looking forward to seeing you in Nagoya in this October.

・

Online Abstract Submission Open :

March 30, 2012
・

Exhibition Registration Deadline :

April 25, 2012
・

Abstract Deadline :

May 31, 2012
・

Notification of Acceptance :

June 29, 2012
・

Final Paper Upload Deadline :

August 15, 2012
・

Early Registration Deadline :

September 10, 2012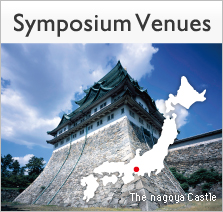 The Nano Satellite-Symposium is a part of the "HODOYOSHI Project"*, which is granted by the Japan Society for the Promotion of Science (JSPS) through the "Funding Program for World-Leading Innovative R&D on Science and Technology (FIRST Program)," initiated by the Council for Science and Technology Policy (CSTP) of Cabinet Office, Government of Japan. (JSPS Official site: www.jsps.go.jp/english/e-first/index.html) *The HODOYOSHI Project: The `"Establishment of new paradigm of space development and utilization with nano-satellites introducing Japanese-original "reasonably reliable systems engineering"'. (Core Researcher: Professor Shinichi Nakasuka, The University of Tokyo.)