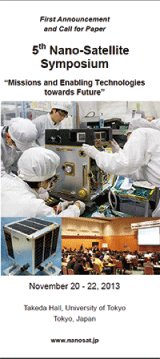 About
Background – Nano-Satellite Symposium
The Nano-Satellite Symposium is an academic meeting promoting technological development of nano-satellites and their application, as well as enhancing awareness about their benefits. The Symposium has been held four times with international participation from researchers, engineers, academicians, business people and governmental representatives. The 1st Symposium was held at the University of Tokyo in June 2010 with 300 participants from 13 countries. The 2nd Symposium was held at the same location in March 2012. Unfortunately, due to the Great East Japan Earthquake that just happened three days before the opening of the Symposium, its schedule was cut short and it had only 85 participants from 21 countries. The 3rd Symposium was held in Kitakyushu in December 2011, with 220 participants from 31 countries and 3 international organizations.
The 4th Symposium was held in Nagoya in October 2012. It was co-hosted by the UN Office for Outer Space (UNOOSA) and the University of Tokyo under the name of the UN/Japan Nano-Satellite Symposium. At the 4-day Symposium, we had more than 290 participants representing 43 countries and three international organizations. The Symposium venue on the last two days was in the same building where the Japan International Aerospace Exhibition 2012(JA2012) was held.
Language
The working language of the symposium is English.